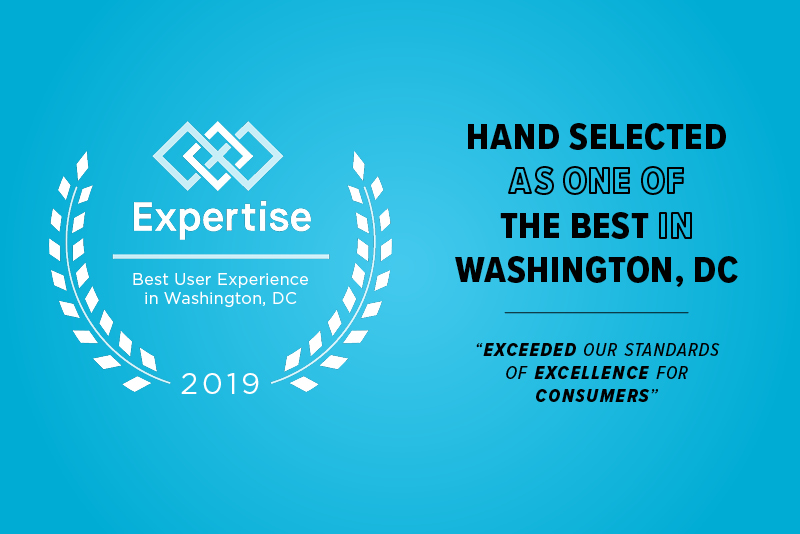 Elxel Creative Wins Best User Experience in Washington, DC
We are proud and excited to share that Elxel Creative has been hand selected as one of the

"Best User Experience in Washington D.C"

by Expertise.
Our team has always strived to seamlessly combine creativity with technology, so we were very pleased to hear that our user experience (ux/ui) design "exceeded their standards of excellence for consumers."

User Experience (ux/ui) Design is fundamental when building any brand, website, or experience — but what does it really mean? And how can your product, company, or brand benefit from having an amazing user experience?

User experience is the overall experience of a person using a product. It's how a person feels when interacting with a website, advertisement, mobile application, computer program or basically any form of human/device interaction. It's critical to any brand because it determines whether each experience is a positive or negative one. The goal is to provide positive experiences that are engaging, easy, simple and keep users loyal to the product/brand.

Successful ux design ensures their target audience always answers yes to questions like –

Does this engage me? Am I inclined to click through or read more? Is this easy to use and convenient?

The best ux design allows you to define each and every customer journey and interaction so that each one is most conducive to business success. Meaning – if you create an amazing user experience, the end result will be exactly what you intended for the user. They click, they submit, they engage, and ultimately they are becoming more involved with your company, product, or brand.